Hospital Administration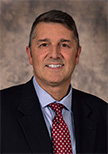 Jeff Scionti
President and CEO
Jeff Scionti was appointed the Chief Executive Office of Frisbie Memorial Hospital in Rochester, New Hampshire effective March 1, 2020. Jeff has worked at HCA for over 33 years with his most recent role as CEO of Parkland Medical Center in Derry, NH. In addition, Jeff worked in other roles such as Ancillary Operations, Decision Support and finance. Jeff began his career in the Army as a Laboratory Technician and eventually accepted a full-time role at Parkland Medical Center in 1991.
Frisbie Memorial Hospital is a 103-bed community hospital, founded in 1917 and became an HCA affiliated hospital March 1, 2020. The medical center provides care for a primary service area of the greater Rochester consisting in population of approximately 70 thousand. Frisbie and its affiliated professional practices have over 18 locations in Rochester, Somersworth, Barrington and Wakefield, NH. Frisbie is formally aligned with Portsmouth Regional Hospital in Portsmouth, New Hampshire, a local tertiary care center to provide specialty care in Cardiac Surgery, Neurosurgery and Trauma.
Jeff is an active community member, serving on multiple boards. Currently he serves as a Board Member of Salem Haven Nursing Home, a New Hampshire local long-term and adult day facility in Salem. Jeff is on the boards of both Foundation for Healthy Communities and serves on the Granite YMCA as a member of the finance committee.
With over thirty-five years of healthcare experience and twenty years specific to healthcare management, Jeff has been involved in expanding programmatic services and footprint. This includes oversight of a 14-million-dollar expansion of the emergency department, construction of a 10-million-dollar health complex and creation of a 3.5 million dollar behavioral health and wellness in-patient program serving the areas mental health patient community.
Jeff Scionti earned a BS in Biology and graduated from Rivier College in Nashua, New Hampshire obtaining an MBA with concentration in Finance.
---

Trevor Eide, MD
Chief Medical Officer
Prior to his role as Chief Medical Officer, Dr. Eide served as Frisbie Memorial Hospital's EMS Medical Director, Medical Director of Emergency Medicine and most recently as Medical Director of Acute Care. He obtained his Medical Degree from Geisel School of Medicine at Dartmouth and completed his Emergency Medicine Residency at Maine Medical Center. Dr. Eide is Board Certified in Emergency Medicine and completed the Physician Executive Leadership Course through the Hanley Center for Healthcare Leadership.
---
John Levitow, DNP, RN, NRP, (NEA-BC), CEN
Chief Nursing and Clinical Officer
John Levitow started his career as a Registered Nurse in a trauma critical care unit, transitioned to a role in emergency nursing and finally moving to a role in critical care transport. In addition to his clinical and leadership experience, John has 16 years of experience in emergency preparedness planning and response. He is involved in preparedness planning and response at the city, county and state levels. John joined Frisbie Memorial Hospital in 2006 as Director of Emergency Medical Services and Emergency Preparedness. In his 13 years at Frisbie, he has implemented a number of clinical programs that have improve the quality and delivery of care in the pre-hospital and emergency department settings.
John earned a B.S. degree in Nursing from Syracuse University, and a M.A. degree in Management from American Military University, as well as a Doctoral degree in Nursing from Old Dominion University. He is a Board Certified Nurse Executive Advanced, Certified Emergency Nurse and maintains a paramedic license.
---

Matt Untch
Chief Finanical Officer
Matt has spent over 18 years in Healthcare and with HCA. Prior to joining Frisbie Memorial Hospital, Matt was CFO at Dominion Hospital where he oversaw the departments of Accounting, Utilization Management, Patient Access, IT&S, HIM, and Supply Chain Teams.
Matt earned a Bachelor's Degree in Accounting from the University of Missouri-Kansas City. He is a member of Healthcare Financial Management Association and the American College of Healthcare Executives.
Matt and his wife have five children, 3 sons and 2 daughters. Outside of work Matt enjoys spending time with his family, serving within his church, and reading personal development books.
---
T.J. Jean
Vice President of Operations
T.J. Jean has over 15 years' experience in healthcare management and administration. As Vice President of Physician Practice Services, T.J. is responsible for physician recruitment and retention as well as overseeing the Physician Practice Services department, which encompasses Frisbie's primary, specialty, and walk-in care practices.
T.J. is actively involved in the community having served three terms as Mayor of the City of Rochester. He currently serves on Federal Savings Bank board of directors, and he is past president of the Rochester Rotary Club, past chairman of the Greater Rochester Chamber of Commerce board of directors, and formerly served as Vice Chairman of the Board of Trustees for Frisbie Memorial Hospital.
Mr. Jean earned an undergraduate degree from Southern New Hampshire University. He resides in Rochester with his wife and three children.