As of April 2021, Frisbie Memorial Hospital's Safety Performance:
Achieved Joint Commission Accreditation
Hospital Compare Quality: 4 Stars
Leapfrog B Score
Frisbie Memorial Hospital is highly committed to delivering safe and high quality care to every patient. This year, Frisbie Memorial Hospital's efforts to improve quality and safety include, but are not limited to:
Remaining up-to-date with CDC recommendations regarding how to detect and prevent the spread of COVID–19;
Nurse Leader rounding on patients in the Emergency Department and Inpatient units;
Executive Leader rounding on staff in all departments;
Daily Leadership Safety Huddles;
Mock drills to ensure consistent care is delivered in a timely manner when patients present to the hospital with a stroke, heart attack, sepsis, or trauma;
Mock drills to help keep staff safe from Workplace Violence;
Reduced Clostridium Difficile (C. diff) infections by using technology to guide clinical decisions to test, ensuring antibiotics are appropriately administered, health care staff wash their hands with soap and water after providing care to a patient with C. diff, and that the environment and medical equipment are properly cleaned between patients;
Reduced the risk for a Catheter-Associated Urinary Tract Infections (CAUTI) by only using urinary catheters when medically necessary and removing them when they are no longer appropriate;
Reduced the risk for falls through the implementation of an exercise-based Fall Prevention program for our older patients and daily monitoring for safety practices
Reduced the risk for skin pressure injuries through daily wound care nurse rounds, routine turning, and applying preventative dressings.
To learn more about our quality data performance, please review one of the following:
Falls with injury and pressure injuries
Falls are a common adverse event among hospitalized patients. Those that result in injury may increase a patient's length of stay, could result in complications, or even death.
Falls and related injuries reflect the quality of nursing care. Frisbie Memorial Hospital is committed to preventing patient falls and associated injuries. We report the rate of patients who are injured due to a slip or fall while in the hospital (per 1,000 patient days).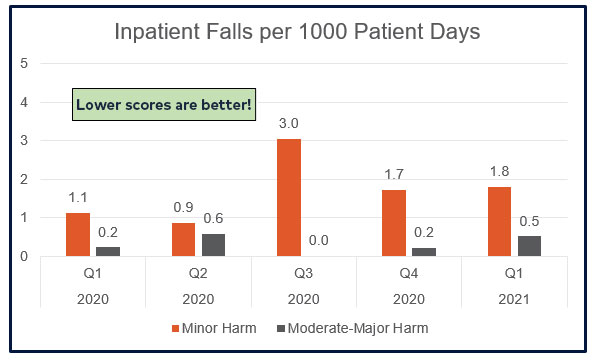 Lower scores are better
Pressure injuries, also known as pressure ulcers, bedsores or decubitus ulcers, is skin breakdown that occurs because of prolonged pressure over bony prominences or under medical devices. This injury can be common in patients who are not able to turn or reposition in the bed or chair, refuse to be repositioned, are underweight, or if they experience a long procedure that is more than 4 hours.
Frisbie Memorial Hospital is committed to preventing hospital-acquired pressure injuries. We report the rate of inpatients that experience a Stage III or higher pressure injury while in the hospital (per 1,000 patient days).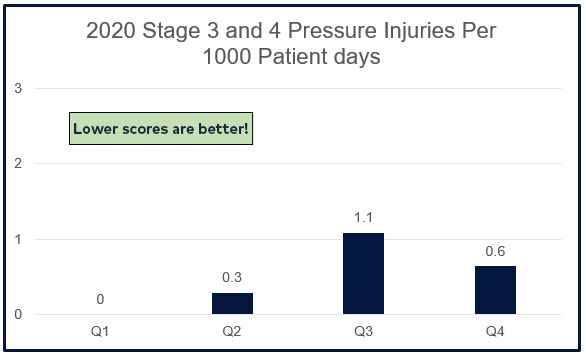 News Related Content