 Frisbie Memorial Hospital's Center for Wound Care and Hyperbaric Medicine has been recognized for the seventh consecutive year, which is a first for a Wound Center in New Hampshire and a feat that only a handful of wound centers nationwide have achieved, for continued excellence in wound healing and surpassing key performance indicators including:
Patient Satisfaction rate higher than 90%
Median Days to Heal below 30 days
Healing rate of at least 91%
"There is a growing need for advanced wound care in the community. At the state and national levels, diabetes and obesity rates continue to rise. Both are major risk factors for non-healing wounds. This past year, six in 10 patients referred to us were first-time wound care patients. As the need for wound care in the community continues to increase, it's important to be able to provide local, comprehensive and award-winning quality care," said Timothy Woodman, Program Director at Frisbie's Wound Care Center.
Frisbie Memorial Hospital's Wound Center is staffed by a team of medical professionals with expertise in the areas of infectious disease, general surgery, podiatry, vascular surgery, and emergency medicine. The Wound Center specializes in treating chronic wounds that do not respond to normal medical care within 30 days.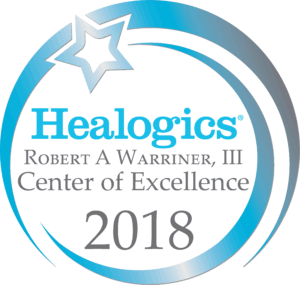 The award was presented by Healogics, a nationwide provider of advance wound care services and home to the nation's largest database of chronic wounds. Frisbie's Wound Center employs an evidence-based, peer-reviewed and cross-specialty collaborative approach to treating chronic wounds.
For more information about Frisbie's award-winning Wound Center, call (603) 330-7914.
News Related Content