 Mayor Paul Callaghan visited Frisbie Memorial Hospital yesterday, March 30, 2022, on this year's National Doctors' Day to present a joint proclamation signed by all three mayors of the Tri-Cities – Somersworth, Rochester, and Dover – to celebrate the extraordinary physicians who have shown commitment, compassion and resilience to keep patients and our communities healthy. Dr. Trevor Eide, Chief Medical Officer at Frisbie Memorial Hospital, accepted the joint proclamation on behalf of our dedicated colleagues.
"I am proud to work alongside colleagues that remain committed to improving lives of our patients and communities. At Frisbie Memorial Hospital, we are truly grateful for all the physicians who show up and stand together, providing care and saving lives, every day," said Dr. Trevor Eide. "We appreciate Mayors Callaghan, Hilliard, and Carrier for observing National Doctors' Day and honoring the dedicated physicians of Rochester, Somersworth, and Dover and across the Granite State."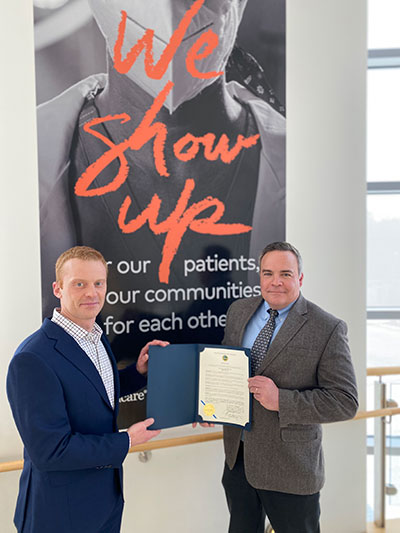 National Doctors' Day is celebrated each year on March 30 and recognizes the hard work and dedication doctors provide caring for patients, and their contributions to the broader community. The very first National Doctors' Day was observed in 1933 by the city of Winder, Georgia. Eudora Brown Almond, the wife of a physician, Dr. Charles B. Almond, was the first to recognize a need to honor physicians and arranged for the community to mail greeting cards to physicians and place flowers on the graves of deceased doctors. The holiday was created by President George H.W. Bush in 1991.
News Related Content